The past few days I made some quarter-inch scale (1:48 scale) furniture. Building something new is a great way to focus on learning how to assemble something new. These pieces are all made from kits or hacked kits.
My quarter-inch scale collection doesn't have any upholstered pieces, so I covered a sofa form with leather. The leather came from my old iPhone case.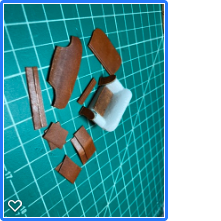 The little bookcase was a tricky (follow the directions carefully) and fun project to make. I got the kit on eBay.
The desk and chair are a BJ Miniatures kit. The kit has such nice wood (walnut) that I didn't need to stain or finish the pieces. I just assembled them.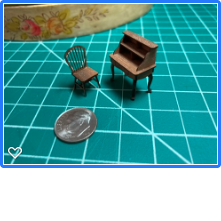 My mood changes when I work on kits. The process seems more relaxing to me. After all, I have instructions and a picture as a guide. Maybe it's because I have an idea on the outcome, whereas my other creative work has no instructions. Often I have no idea how my book sculptures and handbound books will turn out or how many iterations it will take to get where I want to go with a piece. Do you like making kits?